Another Testimonial from another Happy Client!  I love this part of my career, It gives me butterflies in my stomach. I guess that's when you know you are doing what you were meant to do in this life!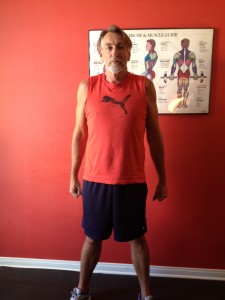 My name is Kirk Martin. I'm a 54 year old standing 6'2 who has never been on any type of exercise program. I was un healthy, completely out of shape and to be honest not feeling comfortable with myself. I knew it was time to do something. I have been a client of PI4L Fitness for 13 months.
Please see my story below.
I had a doctors appointment where I was diagnosed with having High Blood Pressure, High Cholesterol, and I was Pre-Diabetic.
I started walking everyday for a month and I went from 242lbs to 220lbs. I then saw an ad on Craigslist for PI4L Fitness. I emailed and then received a phone call from Mark Lani.
We set up a Body & Nutrition assessment meeting. The meeting was very informative, I felt welcomed and comfortable immediately. We set up training sessions and created a special diet that was easy to follow that included an app for easy meal planning.
I started training with Mark in September of 2013 feeling tired, never having energy, no muscle mass, not toned and not in good health diagnosed by the doctor as outlined above, weighing 220lbs
10 months later, I now have energy, I'm healthy, in shape and feel the best I have ever felt in my entire life. You might say I got my sexy back. I went from 220lbs to 190lbs, I'm toned, have strength and have muscles for the first time in my life. By following the special Nutrition plan that Mark set up I now have great eating habits and I know that they will be with me for life. Best of all, I no longer have High Blood Pressure, High Cholesterol and I am not Pre-Diabetic. Crazy, right!!!
My overall experience with my trainer Mark Lani at PI4L Fitness has been excellent. He is very professional, personable and knows how to get results. I'm proud to be able to call Mark not only my trainer but my friend. I would not have been able to accomplish my health and fitness goals without him. He is Awesome!!!
In closing, I highly recommend PI4L Fitness not only to my family and friends but to anyone who needs to get healthy, lose weight, tone and firm up or even just to get the last bit of definition you always wanted. All I can tell you is I did and I'm ecstatic I did.
Sincerely,
Kirk Martin